This section is dedicated to C2 of GCSE Dance. You will find lots of resources to support the current spec.
New for 2021 are the Start-Up packs, Lesson Plans and a Marking and Moderation Programme.
Old favourites are still available: Physical Setting Resource, Anthology Workbook, Guides to A Linha Curva, Artificial Things and Infra +++!
HAVE A BROWSE…
Save you hours of planning!
Powerpoint presentation with accompanying script
One for each Anthology work as an introduction.
One for each Production Feature, so much choice!
New start-up packs.
Great for planning.
A mix of resources to choose from.
Purchase them individually, or bulk buy!
The more you buy the bigger the discount!
Introducing our new Marking and Moderation programme.
During the pandemic ArtsPool recognised the advantage to teachers in affirming their marking and moderation.
Another set of eyes and ears overseeing.
3 levels to choose from.
All include our Mock Membership Hub for a year
We are back!
If your school allows it, we can return face to face to deliver workshops to your students.
A minimum of 3 hours.
You choose exactly what you would like delivered.
Tailored to your needs.
Covering all aspects of choreographic and performance skills questions.
Step by step guide to writing strong answers for the Hypothetical Choreography and performance skills.
The workbook is in pdf or word format.
Lifetime license.
An easy to use, step by step guide to writing strong answers on students' own work, aiming for the maximum 18 marks.
Exemplar answsers are built using a simple formula.
The workbook is in pdf or word format.
Lifetime license.
Brings all 6 Anthology works together and focuses on relevant information.
A comprehensive teacher guide is included with what the students need to know.
The workbook is in pdf or word format.
Lifetime license.
As used in workshops in schools and on Zoom:
Props, backdrops, lighting states, floors, and costumes to demonstrate and use with your students to create all Anthology sets.  
The Guide covers the written paper:
Highly visual, giving enough information without being overwhelming. 
Your resources have been such a massive help and the revision guide is awesome. Limited help from any other sources so you are my go-to company!!
Explains the skills required for Performance, Choreography, and their Own Work.
Up to 54 out of 80 marks on the written paper can be achieved with the knowledge in this book.
Full set of A3 posters for all 6 works.
Great visual tools to help your students explore the work verbally and in written form.
These posters give students a complete overview of each work in visual format.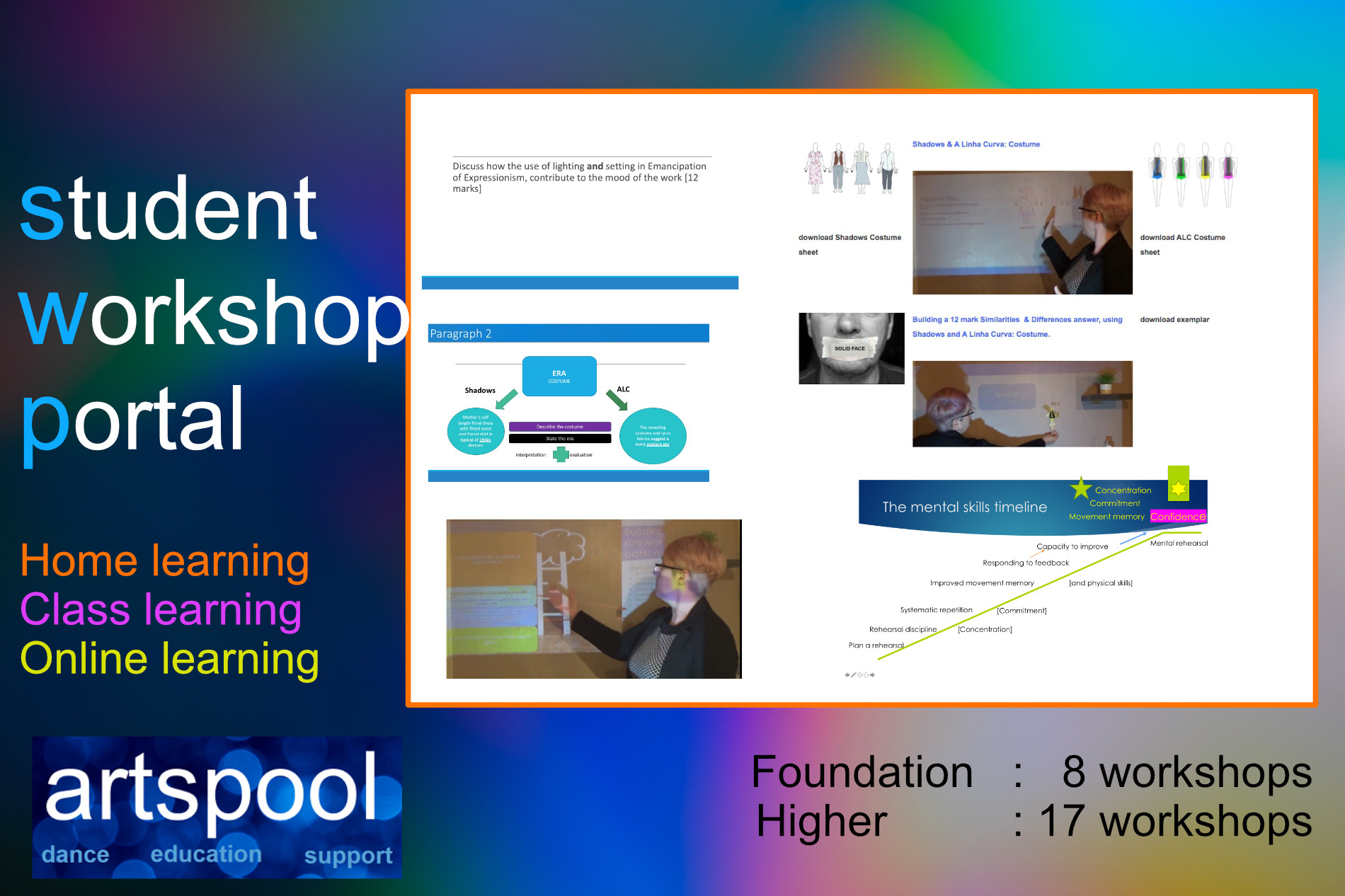 17 online workshops for the GCSE Dance written paper
Workshops led by Heather Worrall, founder of ArtsPool [UK] Ltd.
Her legacy will go on…
Overview:
6 Learning Videos for the Anthology.
Ideal for introducing each of the set works and then for revision in Year 2, prompting them with visual clues.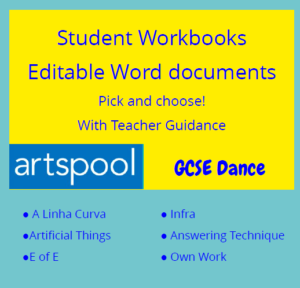 Workbooks (Word versions)
A Linha Curva / Artificial Things / E of E / Infra / Own Work / Answering Technique
Help your students embed their knowledge
BUY ALL 6 FOR £45